News > Top Fleet Management Tips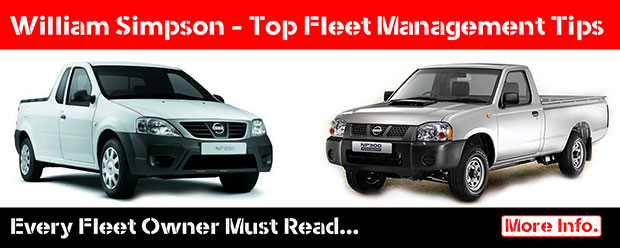 Running a successful fleet can be the edge that businesses have over their competitors and although there is no right or wrong way, there are tips and tricks of the trade, designed to help you improve your fleet management. Here are our top tips to ensure you are optimizing your fleet with quality Nissan vehicles and have chosen the right fleet partner, such as William Simpson.
Choose the Right Fleet Tracking Technology
Not all fleet-tracking programs are created equally and you want to make sure you choose the one that is best suited for your company and its needs. Make sure you do your research before saying "yes!", as this can save you from negatively affecting your business.
Keep Tabs on Your Spending
By keeping a log of all the ways your business spends money, you can effectively come up with ways to save money by looking at aspects of your fleet that can be optimized in order for your fleet to use less fuel and have less wear on your vehicle.
Choose the Right Vehicles
Make sure to evaluate your needs or talk to one of our William Simpson sales executives, where we can cater a Nissan fleet solution that can best satisfy your current and future business needs. Each vehicle has its own set of strengths that can benefit your business and clients.
Make Sure to Keep Your Fleet in Shape
Always make sure that your vehicles are serviced regularly. Vehicles that are poorly maintained, can use more fuel and run slower. To keep your fleet in the best shape, make sure you bring your fleet into our service centres.
At William Simpson, we stock a wide range of commercial and passenger vehicles that include popular and trusted models within the Nissan range. Make sure to contact us to cater a fleet package to best suit your pocket.