News > THE ALL-IN-ONE DATSUN GO+
THE ALL-IN-ONE DATSUN GO+

Now available as a versatile panel van & 7-seater



Since the introduction of the Datsun GO to the South African market back in October 2014, the Datsun GO's styling, economical value and reliability have made Datsun a household favourite amongst the young and young at heart looking for a new vehicle that is affordable for both.
To add to the compact hatchback that we've come to love, is the new-look Datsun GO+ which boasts a combination 7 seater or panel van option, depending on your personal, business or fleet needs.
Datsun GO+ (Plus) is Personal and Professional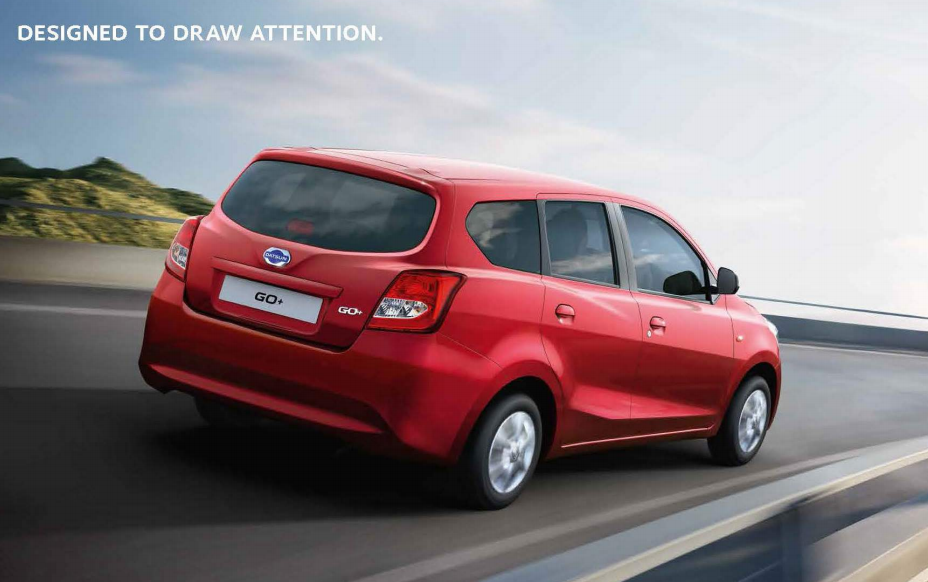 The new Datsun GO+ has the hallmarks of the Datsun styling with the added advantage of additional seating (in the passenger model) and a solid cargo area with a commercial partition (in the panel van model). Whether you're looking for your first family-friendly commuter or you're a young entrepreneur looking to get your business fleet off the ground with this light commercial – then the new Datsun Go+ has an appealing price to suit your personal or business' budget.
Packs a Punch without Emptying your Pocket
Alongside the panel van, Datsun have launched the versatile 5+2 split (7-seater) multi-purpose vehicle with all the favourites from the original Datsun Go PLUS a whole lot more!
The Datsun GO+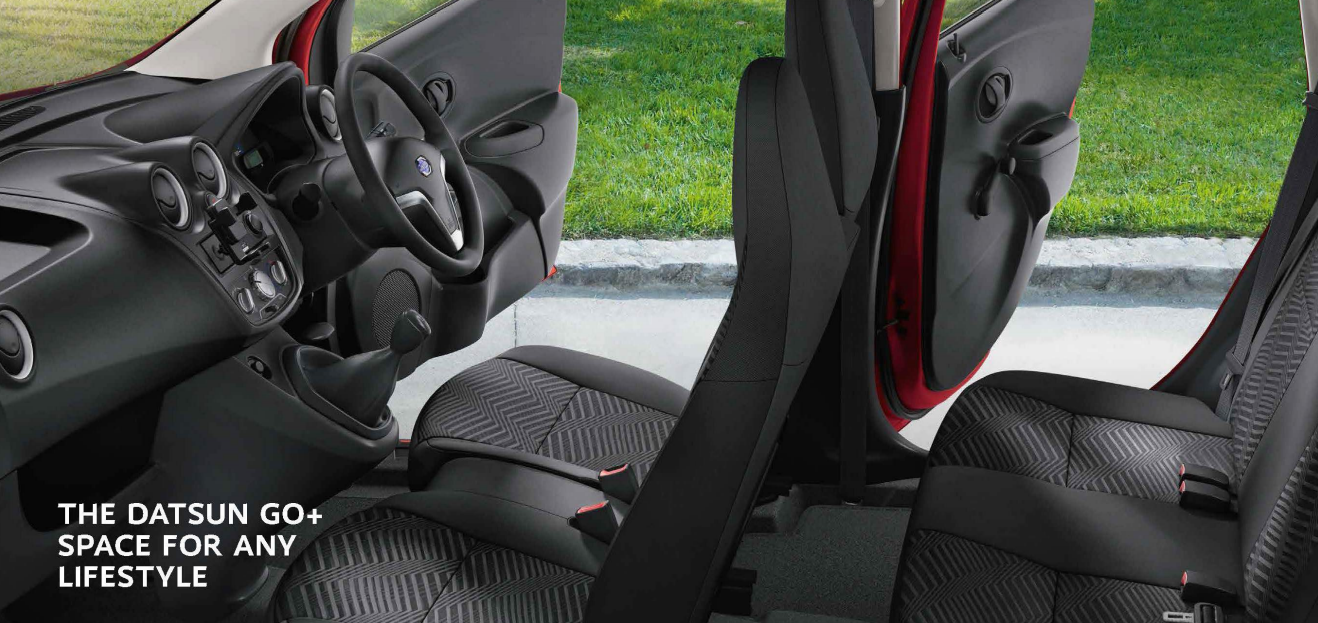 A new body shape allows for more versatility, standout style and impressive fuel efficiency. Ideal for the whole family, the Datsun Go is made for space – no matter what it's used for. The Datsun GO+ 7-seater passenger model offers:
Crisp air-conditioning as standard
Distinctive exterior styling
Ample space for leisure, lifestyle & long journeys
Mobile docking station, giving you control of your tunes
Elegant simplicity and clean interior finishes
Clear dash on-board computer for complete control
2L engine with noise reduction & counter-balance system to reduce vibration
Advanced suspension with effortless acceleration response
Electric power steering
Choose from 5 exciting colours to choose from
The Datsun GO+ Panel Van

Offering more than just comfort, the panel van model is an ideal investment for the economic entrepreneur and business owners looking for a light-commercial city run-around at an appealing selling price – because we know how important the bottom line is to all businesses. The Datsun GO+ Panel Van offers:
Stylish exterior design
Driving comfort with air conditioning as standard
Spinal support seats that offer unsurpassed comfort and support for long working days
Driver's side airbag
Electric front windows as standard
A roomy cab for driver and co-driver
Choice of two colours
Dark tinted, smash and grab on all rear windows
Remote door entry for rear loading door
Level galvanised steel floor and partitioning with wire mesh
Upgraded "Gas stays" for rear door – higher opening aperture
Total loading capacity of 542 kg
Total loading area of 3.43m3
Cost per kilometre of R0.16
Claim back 14% VAT if a registered business owner
An economical 1.2 litre petrol engine that delivers 50kW at 4 000 rpm
Fuel consumption of 5.2 litres per 100km in an urban/country cycle
Mobile docking station
Whether you're looking to grow your enterprise or need a spacious car for your growing family – the Datsun GO+ range is an appealing and cost-saving MPV that is fuel-efficient, reliable and beautifully functional.
For more information, contact us now!
DATSUN GO+ and PANEL VAN REVIEWS:
DATSUN GO+ PANEL VAN REVIEWS
"I needed a car that could take my small business to the next level. I wanted to start delivering my flower arrangements and found that the Datsun GO plus was perfect. The doors open wide enough to get my arrangements out and the roof space is ideal during transport." - Tracy
"I've just started my business and I was looking for a vehicle that offered enough space to make deliveries without a heavy fuel bill. The space seemed great and the car has lots of features to keep my driver safe and comfortable." - Bongani
We want you to review the new Datsun GO+ Panel Van, test drive today and tell us what you think!
DATSUN GO+ PASSENGER REVIEWS
"It drove so smoothly even with all our passengers in the back. Even on the rough roads, we felt safe!" – Jaco
"We were so surprised at the space! We have quite a large family and needed a car that could handle all our kids, plus their sports equipment – and my shopping bags. Has all the essentials PLUS looks so good!" - Fatima
We want you to review the new Datsun GO+, test drive today and tell us what you think!