News > Thank you William Simpson From SPCA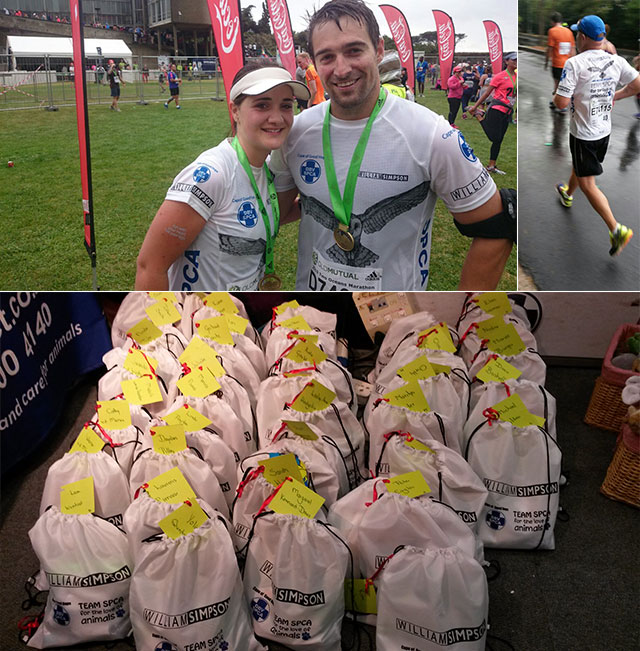 On behalf of the Cape of Good Hope SPCA we would like to extend a heartfelt thanks to William Simpson Cars for sponsoring our Team SPCA in the Old Mutual Two Oceans Marathon 2015.
Collectively we raised, including your sponsorship, close to R160 000!
The Cape of Good Hope SPCA was fortunate to be granted the opportunity to sign up again as one of the charities for the Old Mutual Two Oceans Marathon 2015. This allowed us to purchase half marathon entries and thus encouraged runners to join our for our Wildlife Unit under the theme of "Run wild for Wildlife"
William Simpson Cars sponsorship largely covered the procurement and printing of the sponsor branded TEAM SPCA running shirts and goody bags. Branding of the running shirts not only provided exposure to the runner, but also extends to their friends and family and the thousands of spectators that line the route each year. Furthermore, our Team SPCA runner continues to wear their running shirts after the event, providing on-going exposure for William Simpson and SPCA.
In addition to the association with William Simpson Cars, with the CoGH SPCA, this specific fundraiser will be advertised on our Facebook page which has over 16000 fans.
We will also publicise the event in our Footprints magazine issue 2 of 2015 edition. This magazine will be distributed to 6000 of our top end supporters with an extended readership of 15 000.
We are convinced that our supporters were happy to see such a trusted and recognised brand on board as William Simpson Cars joining the Cape of Good Hope SPCA in its efforts to raise much needed funding for our Wildlife Unit who, in light of the recent devastating fires that raged along Cape Town's South Peninsula, was in need of funding to assist with and rescue, where possible, animal life affected by the fires.
Thank you for sharing in our commitment to make this a better world for ALL animals and continue to support our work in this special way.
Kind regards
Natasha
Natasha Johannes
Fundraising Officer
Cape of Good Hope SPCA