News > Prestigious award for economic development goes to Nissan South Africa
Rosslyn, South Africa, 3 January 2018 - Nissan South Africa has won the Capital City Business Chamber (CCBC) Award for Manufacturing in recognition of their contribution towards economic growth and job creation within their region. CCBC was established in 2008 with the aim to develop business in the Tshwane region in South Africa.
Mike Whitfield, Nissan Group Africa managing director, accepted the award at the glamorous gala dinner and partook in a panel discussion about economic growth through smart cities. Whitfield said that: "Nissan South Africa has been committed to skills development and job creation for decades with our Rosslyn plant and we're proud of this award that recognizes our much-needed contribution to economic development."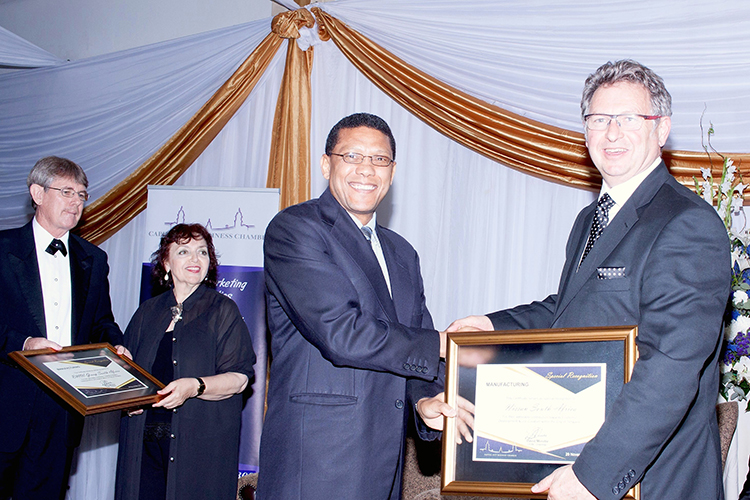 Being one of the largest manufacturing sectors in the local economy and contributing 7.5% of South Africa's GDP which results in R3.99-trillon in 2015, the automotive industry is a key role player in South Africa. Production of vehicles and components represents +- 30% of South Africa's manufacturing output. On this note Whitfield said that: "While we will continue to invest in the country, it must be said that there are potential stumbling blocks in our future as frequent industrial action combined with a decrease in domestic and international support could make other countries a more lucrative option for vehicle manufacturers."
Whitfield emphasised that there are many reasons why South Africa remains a strong manufacturing destination such as: "Well-developed logistics, government support, easy access to Africa regions, established financial services, a strong business sector, relatively low production costs, skills development programs and excellent quality of locally made vehicles."
The Rosslyn plant, with just over 2000 employees, has recently started an engineering training program of which 50% of the students are black women, this program was started after Nissan realised that there is a shortage of basic skills in the motoring industry.
Whitfield said that: "There is great potential for growth locally and throughout Africa, we are optimistic about the long-term future of the automotive and manufacturing sectors, and Nissan will continue to do its part to stimulate economic growth and job creation well into the future."