News > A dream will come true: Nissan Navara taking part in the Dakar Rally
Paris, 4 January 2018 – Mindaugas Plukys will be taking part in the 40th Dakar Rally this year, the year of his 40th birthday as well. The well-known gruelling Dakar Rally's motto is "Dream… Dare… Live it" which is exactly what Plukys will be dong in his modified Nissan Navara over 9000 kilometers!
This Navara was bought and then modified with the help of sponsors and travelled across the Atlantic Ocean to the starting line in Lima, Peru. Plukys will be sending articles, videos and images of the route and rally for media outlets on Facebook.com/iGo2Dakar.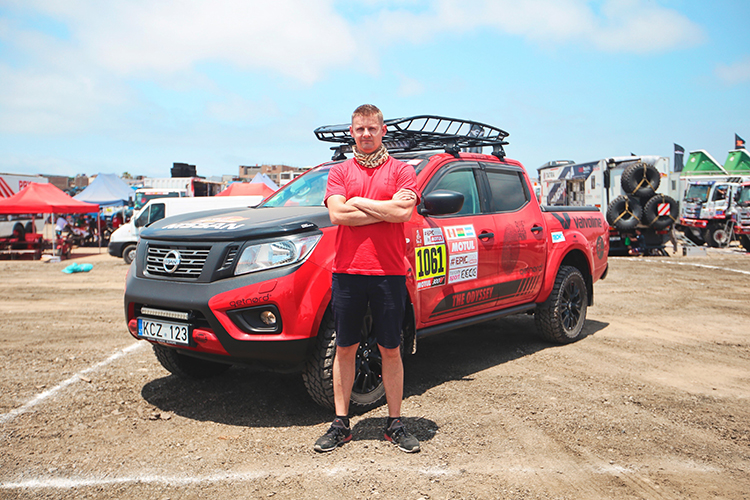 Plukys, who works for Nissan as part of the communications team in the Baltic region, said that: "There is something about the Dakar Rally which has always inspired me, and this adventure has been five years in the planning. I always said I'd do it before my 40th birthday, so getting to South America in January 2018 has been my goal."
The original Nissan Navara's design is built on 80 years of heritage and was the winner of the International Pickup Award 2016. More than 50, 000 Navara's have been sold across Europe in the last two years.
He bought his "tough and smart" Double Cab Nissan Navara in September 2017 and has since been upgrading the Navara with aftermarket components. His goal is to make his Navara ready to tackle the toughest endurance race in the world with a flaming red exterior that has been raised 4cm with an Old Man Emu suspension and a 2.3-litre 160PS diesel engine linked to a 6-speed manual transmission.
To improve durability Nissan side bars and a rear bumper was added as well as a Rival underbody protection system and to provide secure storage a plastic liner along with an aluminium load cover. Lighting has been enhanced by adding a Hella LED light bar and a Thule cross bar and roof rack with a Lazer Triple R 16 LED bar mounted on it. Finished with 18-inch black alloy wheels and Cooper Discoverer ST Maxx tyres.
The interior is standard with an added 220V power converter and an extra four USB ports. Plukys said that: "The tough and smart character of the Nissan Navara makes it the perfect vehicle for this adventure," and that: "Apart from the suspension upgrades and body protection, it's a standard vehicle. Every other new component is there to make life easier. The route through South America will be hard, but I expect the Navara to cope with it."
Lithuanian's are big Dakar Rally fans and three drivers; two co-drivers and a motorcyclist is competing in the 2018 edition. Plukys is accompanied by a photographer, Andrius Laucius, and they will be following the competitors for two weeks, 14 stages, 9000 km's and 3 countries later when they will cross the finish line in Cordoba, Argentina.