News > Nissan Navara Stealth available in South Africa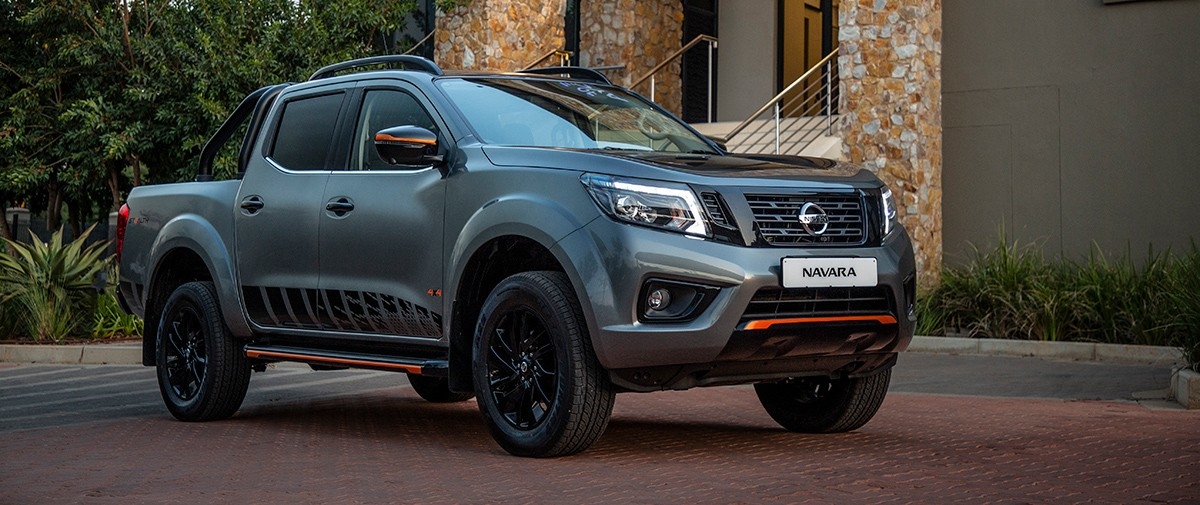 A more rugged and redefined, ultra-functional and comfortable Nissan Navara Stealth is now available in South Africa.
"Nissan has more than 50 years of heritage in South Africa. The new Nissan Navara Stealth has been engineered specifically with the South African customer in mind, to meet the demands that are placed on them and to reflect something of who they are", says Kabelo Rabotho, Director of Marketing Nissan South Africa.
More rugged, more defined
This award-winning edition of the Nissan Navara pickup boasts a number of design updates to take its ruggedness to another level, and make it even more defined than ever.
The vehicle comes in standard silver and chrome detailing on the exterior, with sleek black trims and newly added orange accents on the grill, front bumper, side mirrors and side steps. This all adds to giving the new Navara an edgy and bold character, that matches its driver. The roll-bar, side steps and black alloy wheels complete the look.
The two-toned exterior is carried through to the interior of the vehicle with black leather side bolsters that feature orange material inserts and stitching. These two colours contrast but also complement each other for a strong and modern aesthetic in the cabin.
This off-roader is distinctively rugged while having a superior performance.
The new Navara aims to build on the already tough Navara name, but with extra luxury and comfort. The new updates were added for the customer who is passionate about their vehicle & vehicle accessories, and wants a pickup that speaks to them & who they are.
Optimised driving experience
The new Navara comes in a 2-wheel drive and a 4-wheel drive configuration and features a Navara twin turbo engine with 140kW power and 450Nm torque. It also has a 6-speed manual transmission or 7-speed automatic transmission; and 5-link coil rear suspension. This all aids to optimise the driving experience even more.
You'll also find an array of Nissan Intelligent Mobility technologies inside the vehicle, geared to giving the customer a safer and more sustainable driving experience.
Nissan Intelligent Mobility has cutting-edge technology that is ready to pave the way for whole new way of driving, peace of mind, and opens new experiences for the customers and how to connect to the world of those around them.
Nissan Intelligent Mobility
The Nissan Intelligent Mobility technology in the new pickup includes the Intelligent Key System, the Intelligent 4x4 System (to assist drivers in smooth cornering by adjusting power output to the front and rear wheels) as well as Hill Start Assist.
It also comes with Intelligent Around View Monitor that uses four cameras positioned at different points around the vehicle for the driver to have a 360-degree aerial view of the vehicles and surrounds.
The Nissan Navara Stealth enters the market at a starting price of R582 200 and includes Nissan Assured, a comprehensive 3-year/90 000km service plan and a class leading 6-year/150 000km warranty.
RECOMMENDED

MODEL DESCRIPTION

RETAIL PRICE

Incl VAT

Excl VAT

NAVARA 2WD

NAVARA 2.3D STEALTH 4X2 DC

R 582 200.00

R 506 260.87

NAVARA 2.3D STEALTH 4X2 AT DC

R 599 900.00

R 521 652.17

NAVARA 4WD

NAVARA 2.3D STEALTH 4X4 AT DC

R 659 900.00

R 573 826.09

NAVARA 2.3D LE 4X4 AT DC + Leather

R 647 500.00

R 563 043.48