News > Nissan LEAF Rally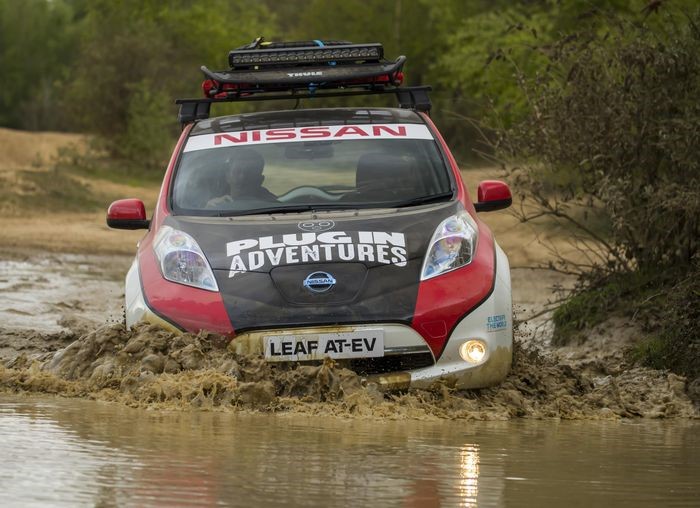 Plug in adventures has created a uniquely modified Nissan LEAF that will be the first all-electric vehicle to enter the Mongol Rally, travelling 16,000 km from the UK to Mongolia in Summer this year.
Named the LEAF AT-EV (All Terrain Electric Vehicle), it is modelled on a standard 30kWh Nissan LEAF Acenta, with a few key modifications to better equip the LEAF when it reaches remote parts in the journey.
Fitted with Speedline SL2 Marmora wheels and Maxsport RB3 narrow tires for better performance on rough roads, welded plates on the underside of the wishbone, mudflaps, braided brake lines, and a 6mm aluminium sump guard. A modified roof rack is fitted with a Lazer Triple-R 16 LED light bar to produce 16,400 lumens of supplementary low-voltage forward lighting.
The Mongol Rally isn't a timed race, so entrants' vehicles provide enough comfort for long distance. The LEAF AT-EV's interior modifications are focused on reducing weight and providing more space for storage. The driver and front passenger area is unmodified besides having additional rubber floor mats, while the rear row of seats have been removed completely to reduce weight by 32kg. There is also a Fire Extinguisher and First Aid kit in the boot. A high performance automotive engineering company from the UK, the RML Group carried out the modifications.
"The Mongol Rally is our most challenging electric vehicle drive to date, but it's one we've been planning for a number of years," said founder of Plug In Adventures, Chris Ramsey.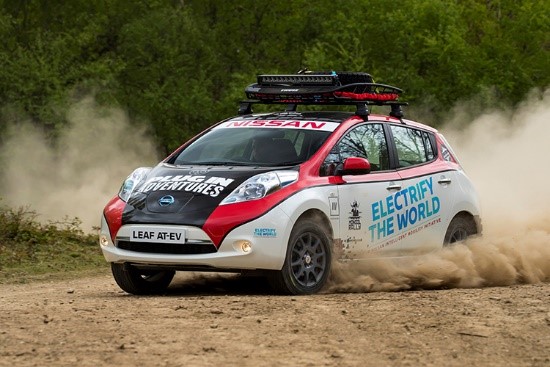 "Not only will we face a dwindling number of EV chargers the farther east we go, the terrain also becomes more difficult to navigate. Using a Nissan LEAF for this was an obvious decision. I'm familiar with the car; it's always been reliable and dependable for me, and it has the largest network of rapid charging options in Europe. As it will also accept 240v Commando connection even in the remote areas when my fast-charge options are gone, I can still charge the battery and keep moving. This journey is about the travel experience, though – not reaching the destination in a fast time. I can't wait to get out on the road and introduce more people to the advantages of electric vehicles, whatever country they're from."
Ramsey is planning to make regular stops along the way so that he can promote the benefits of all-electric vehicles to residents of the countries he is passing through. He will also use the What3Words platform to log the locations of the uncharted charging network, so that future EV drivers can benefit from the knowledge of the accurate charging point locations.
"Since we launched the LEAF in 2010, our customers have collectively driven over three billion kilometres, saving more than 500 million kilograms of CO2 emissions in the process," said director of Electric Vehicles at Nissan Europe, Gareth Dunsmore.
"Our 'Electrify the World' initiative connects stories from these people who are living an electric lifestyle. Few Nissan LEAF owners have been more vocal or accomplished as Plug in Adventures at demonstrating that electric vehicles can do so much more than daily commute. We applaud this ambitious driving challenge and wish them a safe and enjoyable journey."
The Mongol Rally launches on Sunday, 16 July, 2017.