News > Datsuns First Birthday
We're Celebrating Datsun's First Birthday!
It has only been a little over 12 short months, but the return of the Datsun brand to South African shores has been met with nostalgia and excitement from both newcomers to the brand and old supporters.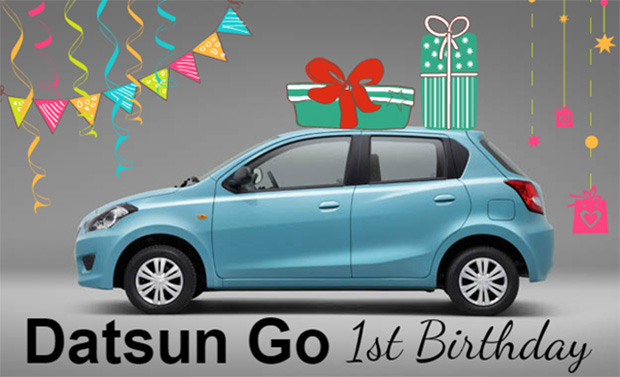 Just as they stole our hearts before, Datsun has done it again, but this time with the Datsun Go at the forefront.

With the South African pocket being impacted by recent economics, Datsun's highly competitive division have succeeded in having their initial market offering hit the top spot. A sweet celebration for the manufacturer celebrating its first birthday back in South Africa.

The Datsun Go has made a dramatic impact on the A segment, securing the number one spot and reaching sales of nearly 6000 units since it hit South Africa's showroom floors in October 2014. These high volumes of units being sold are a testament to the GO's mass appeal and it being the ideal car for the current South African market.

The manufacturer has maintained its brand values that made it so popular in the 20th century as well as enabling a new generation the access and freedom to purchase affordable new cars. The Datsun brand delivers on modern vehicles with a sporty look that have spacious interiors, essential features for the younger generation as well as having low fuel consumption, affordable maintenance costs and safety features.

The successful return of the Datsun brand, which has expanded its initial network of 44 dealerships to 61, is not only thanks to the GO, but also several other initiatives such as the driving simulator in collaboration with Sim U Teach in Bloemfontein, which without having to take to the road safely enables learner drivers to experience various driving conditions.
The Datsun GO simulator comes equipped with a GO cockpit and active vehicle controls (such as a clutch, brake and accelerator), traffic and vehicle noises as well as all K53 driving modules. The simulators are being monitored to assess their contribution to the promotion of road safety and consideration has been made to roll out this technology at all Datsun dealerships, so you could see it at William Simpson soon!
Though having achieved so much success already in their first year back, the Datsun brand does not plan on slowing down with plans of opening new dealerships as soon as possible in areas where there has yet to reach and continuing the success of the GO.
For more information on the Datsun Go and to keep up-to-date with our Datsun deals, make sure to contact us or call us directly on 021 710 3400.