News > Arkady Pawel Fielder Drives Nissan LEAF In First Electric Explorer African Challenge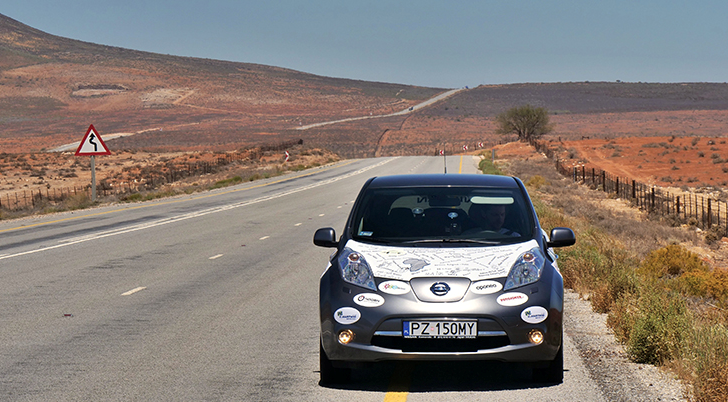 The first ever electric vehicle challenge that goes across Africa and into Europe, saw Arkady Pawel Fielder behind the wheel of a first generation Nissan LEAF, while photographer Albert Wojtowicz was occupying the passenger seat.
The vehicle was not modified in any way. Fielder had already done a 4,000km journey around Poland in a LEAF, and had every faith in its ability to deal with the Electric Explorer African Challenge. Before the expedition started he said, "Travelling across Africa is probably the hardest test for any vehicle, not only an EV. Poor roads, limited charging infrastructure, and dramatically diverse weather conditions are just a few of the challenges we will have to face during the expedition."
The challenge started in Cape Town and continued through more than a dozen West African and South African countries before heading into Morocco and then Europe.
The goal of the expedition is to raise awareness in Africa and Europe about the advantages of electric vehicles. The organisers want everyone to be aware of how big an impact cleaner technology would have on our environment.
Afterwards, Fielder said one of the biggest challenges had been finding sockets suitable to charge the battery, although in Europe this is becoming less of a problem every year. In Africa they were more reliant on people they met along the way, and the support they received from the African people meant they were able to achieve their goal.