News > All-new Nissan JUKE unveiled!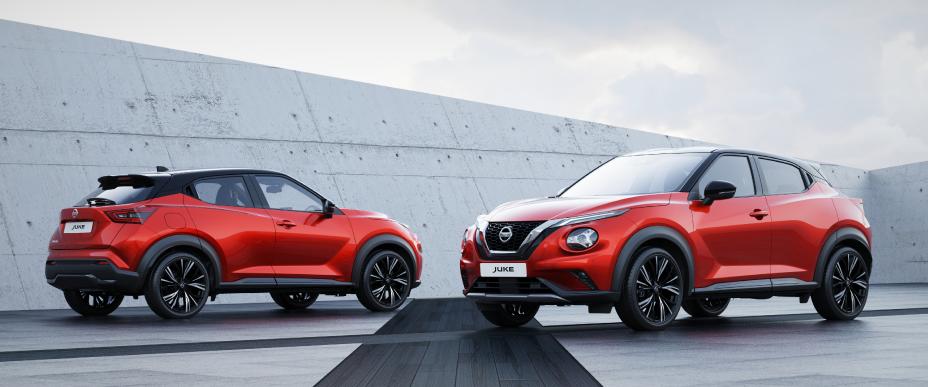 All-new Nissan JUKE unveiled!
Almost 10 years ago, a new bar was set for compact crossovers with its focus on fun and a personality like no other. Now, back to show how much has improved, the all-new Nissan JUKE has been unveiled in London; Paris; Milan; Barcelona, Spain; and Cologne, Germany.
The all-new Nissan JUKE is fun to drive and offers levels of performance and technology never touched before, with even more room. The JUKE has continued to stand out on the road in Europe where almost 1 million cars are on the roads and continue to resonate with European customers.
The next-generation JUKE appeals to Europeans drivers who are after design, technology, and performance in one vehicle, but also practicality in the crossover segment. The all-new edition also sports ProPILOT with Nissan's vision to change how vehicles are powered and driven with Nissan Intelligent Mobility.
Ponz Pandikuthira, Nissan Europe's vice president for product planning says the Nissan JUKE is back with a striking identity, exciting performance, and technology that meets the drivers' needs. The new and exciting driving experience will especially appeal to the increasing number of customers that are opting for compact crossovers.
The Nissan JUKE has grown up but remains young with its fun-to-drive qualities.
Design
The JUKE has set a new standard in the B-Crossover segment with dimensions that are larger and have an athletic stance. With striking 19-inch alloy wheels and a coupe-style roof design, as well as full LED technology, the JUKE will keep its iconic circular headlamps but don a new Y-shaped signature. This complements Nissan's V-Motion Grille with Fuji Sunset, an exclusive body colour.
The interior has been transformed with even more space for passengers and their goods with an increased rear-seat knee room by 5.8cm, rear headroom by 1.1cm and a 422 litres boot capacity. This new interior offers style and comfort in driver and passenger positions, with more user-friendly controls and storage. The dashboard, door trim, and footwells have a soft-touch material to give a premium feel, that is complemented by mono form sporty seats and Alcantara or leather upholstery as an optional extra.
The all-new N-Design grade package offers customers a way to make their new JUKE truly their own. With multiple colours to choose from for body, roof, and interior, it brings out the urban and sporty character of the JUKE. Additional personalisation can be done with bumpers, side sills, and 19-inch alloy wheels.
Performance
The JUKE has been designed for its agility, but the new crossover has grown up now with dimensions of 4210mm in length, 1595mm in height, 1800mm in width and 23kg lighter. All of this offers more room but remains compact and light. The new model dons a more rigid platform for better stability, performance and cornering capabilities.
A 1.0-litre three-cylinder DIG-T turbocharged engine powers the new JUKE with 117 PS. An engaging 6-speed manual or 7-speed dual-clutch (DCT) paddle-shift transmission and driving mode selector gives drivers improved fuel economy and refinement.
Advanced Technologies
The JUKE has been loaded with Nissan's infotainment and driver assistance technology, as well as Nissan Intelligent Mobility technology, making it the most connected Nissan ever made.
Nissan Intelligent Mobility
With electronically assisted steering, acceleration and braking, Nissan ProPILOT technology will be available on the JUKE for the first time ever. It has been designed for highway use in single-lane traffic and assists the driver in maintaining the right distance and speed and keeping the car centered in the lane.
The JUKE also comes equipped with a full package of safety technologies including Intelligent Emergency Braking with Pedestrian and Cyclist Recognition, Traffic Sign Recognition, Intelligent Lane Intervention, Rear Cross Traffic Alert, and Blind Sport Intervention as a premier to this unique segment.
Connectivity, Infotainment, and BOSE® Personal® Plus
The NissanConnect infotainment system gives customers with Apple CarPlay and Android Auto the ability to mirror their smartphone apps on the 8-inch touch screen display. Drivers will be able to access TomTom Maps and Live Traffic as well as activate their In-Car WiFi for passengers.
The perfect companion is the NissanConnect Services App, giving customers control over their vehicle and lock or unlock their Nissan from their smartphone. Drivers can also check their tyre pressure and oil level.
Google Assistant compatibility makes JUKE drivers' life even easier by giving them control over certain functions like vehicle lights and sending destinations to the car's navigation system.
The Bose® Personal® Plus sound system lets you play louder with 8 powerful speakers!